How to use GIVernance
20 Nov 2020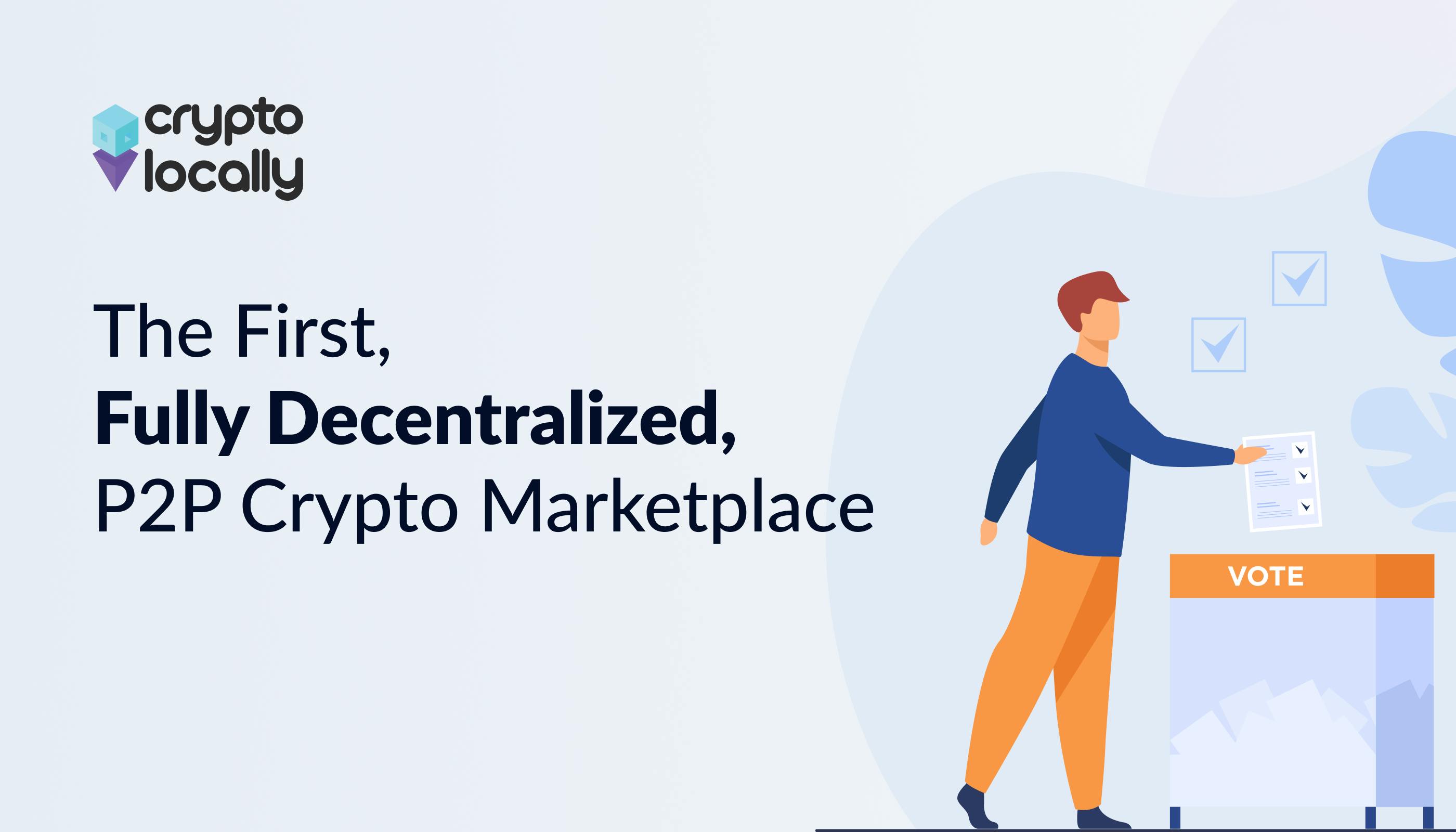 Cryptolocally aims to be a decentralized provider of non-custodial smart contract escrows for Peer-to-Peer digital assets trading. Through GIVernance, Cryptolocally will be managed and governed by the token holder community, who can make decisions by voting on proposals with their GIV. With GIVernance, every GIV token holder can make their voices heard, and contribute to building out a greater ecosystem around Cryptolocally.
This guide will explain how you can use GIVernance.  GIVernance can be divided into three parts -  How to create proposals, How to Vote and How to write proposals. After reading this guide, you will get familiar with the two following platforms: GIVernance Voting Portal and GIV Guild Forum.
You can also check our tutorial video by clicking here.
How to Create Proposals
Click GIVernance Voting Portal under your username button on the nav bar.
* You can also directly go to the GIV guild forum by the link (https://gov.cryptolocally.com/).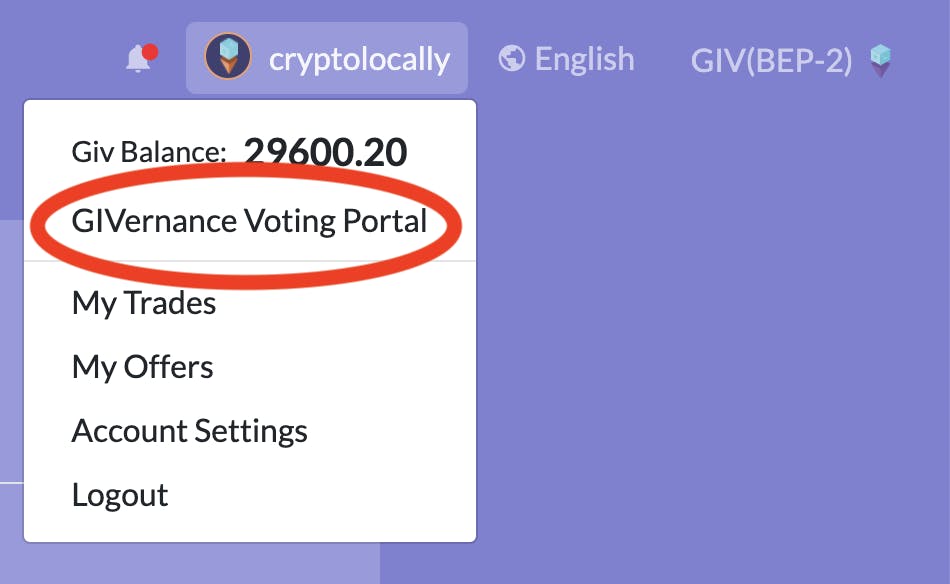 Or, you can click "GIVernance Voting Portal" button on your GIV Profile to visit the portal.

You can now see the proposals listed by our GIV community. The list shows the title, the number of votes, the status, and the time left for voting for each proposal. 
You can create a proposal by clicking on the "Discuss"  button on our GIVernance Voting Portal.

Once you click the button, you will be led to our GIV guild page. First, you need to log in to our GIV guild forum. If you have been already using Cryptolocally, you will be logged in to the page automatically.

To create your own proposal, click the "+ New Topic". A pop-up for writing a new proposal will be shown at the bottom.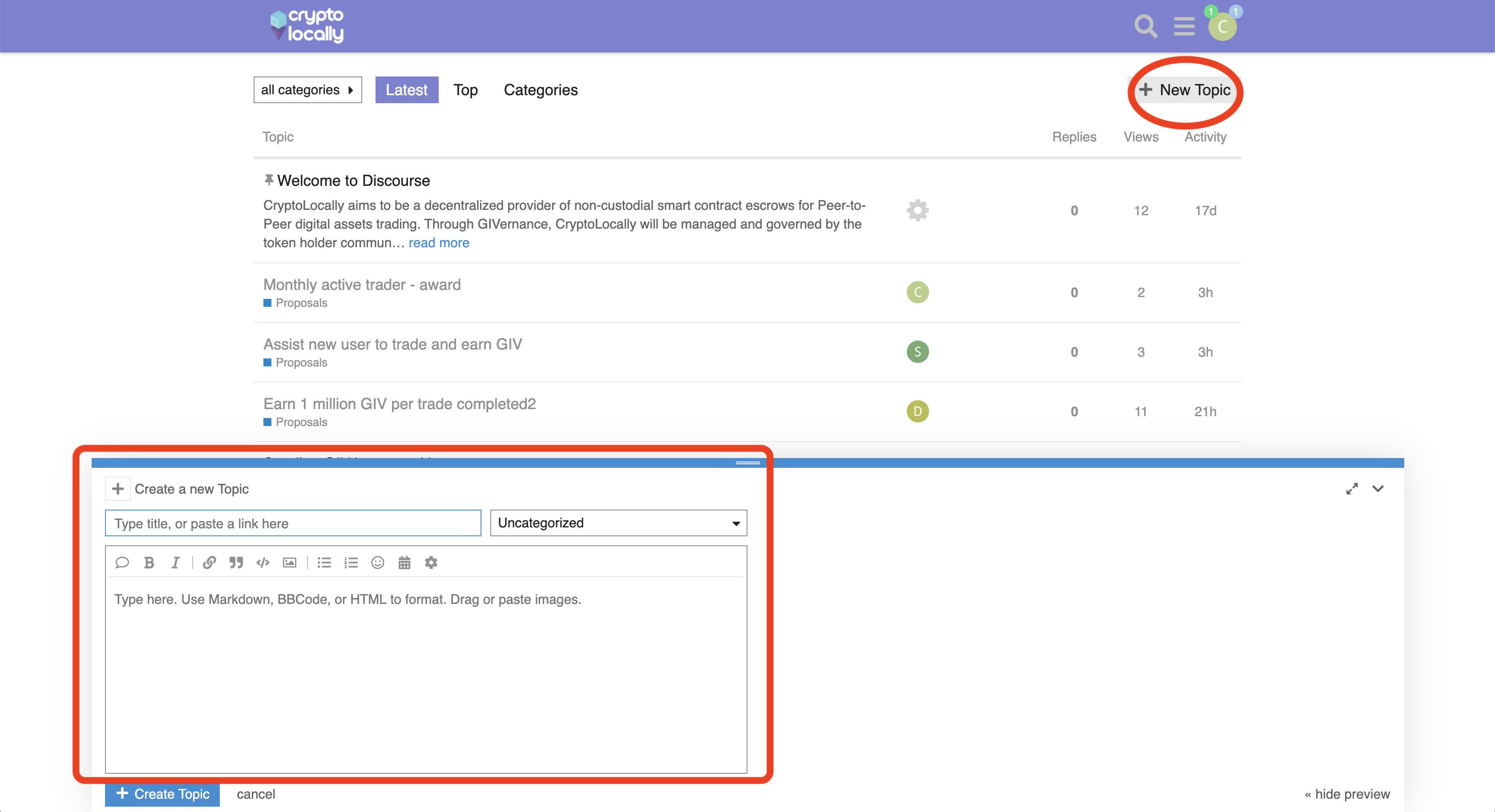 In order for your proposal to get voted by our GIV community, you need to copy the link of your proposal from the GIV Guild forum to the GIVernance Voting Portal. 

Go to the GIVernance Voting Portal and click the "Link a proposal" button

Paste the link of your proposal, and submit it.
* it costs 200 GIV to list a proposal for voting and expires within 14 days.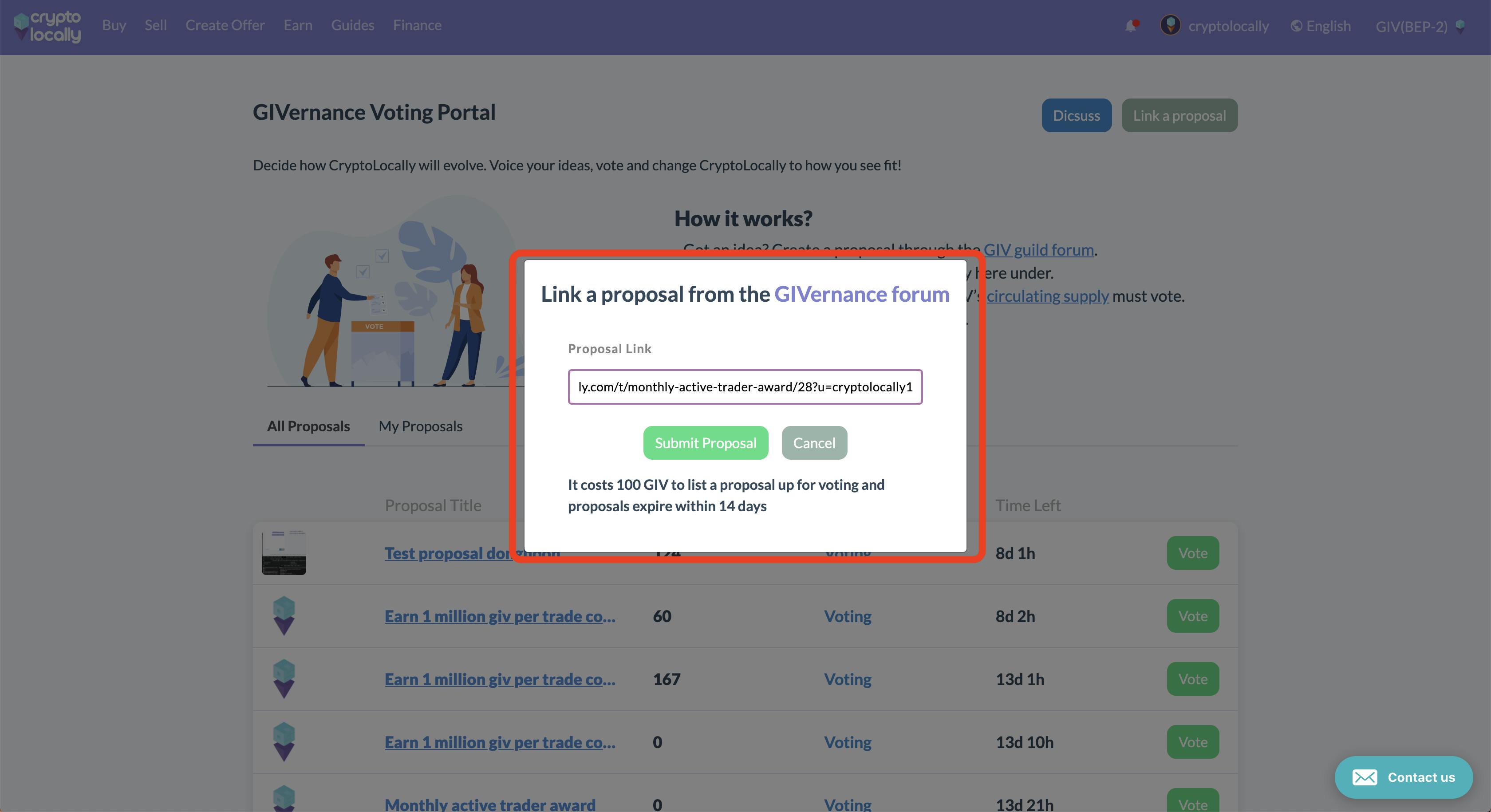 Once the proposal has been linked, it will be listed on the GIVernance Voting Portal. 
Also, you can check or delete yours on the "My Proposals" tab.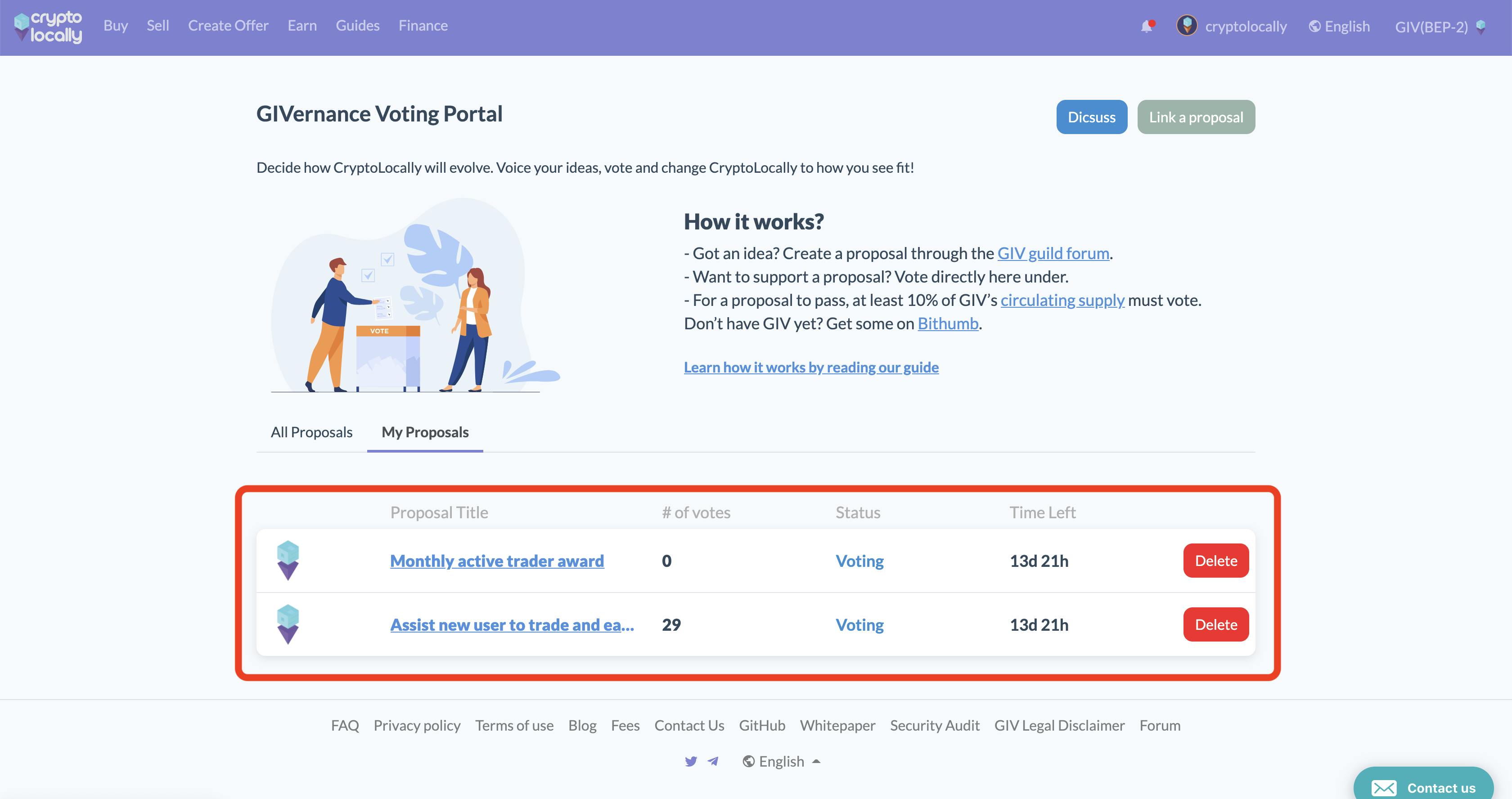 How to Vote
Voting on proposals and getting involved in our GIV community is very important. 
Click on GIVernance Voting Portal under your username on the nav bar.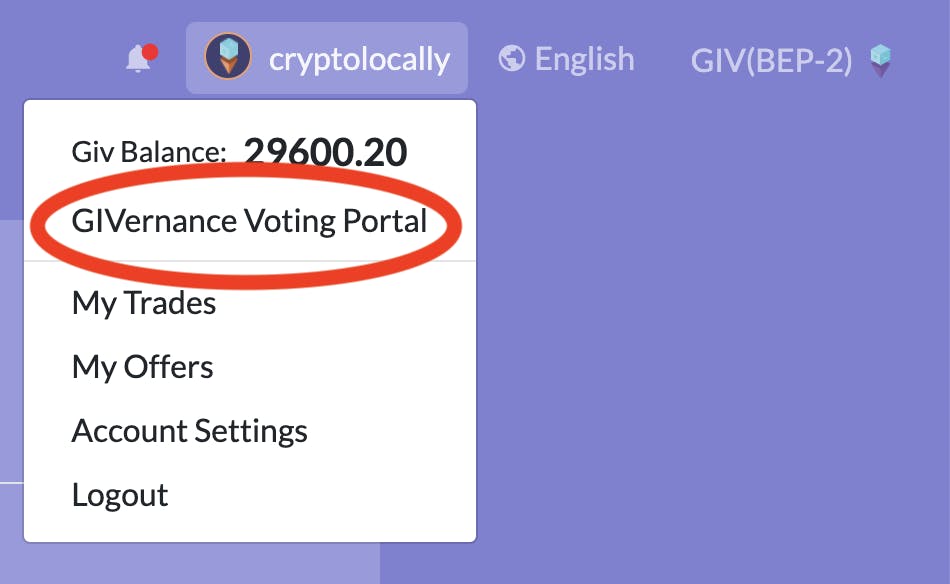 Or, you can click the "GIVernance Voting Portal" button on your GIV Profile to visit the portal.

After you read a proposal carefully and would like to support it,  simply click "Vote" on the respective proposal.  Votes are made by staking the GIV available on your Cryptolocally "GIV Balance".
Example:
I'm holding 300,000 GIV on my Cryptolocally "GIV Balance", while browsing new proposals on the "GIVernance" portal, I found one I want to support. "Listing DODGE coin" makes a lot of sense to me and I will vote for it. I simply click on the "vote" button on the respective listing. Once done, my GIV balance is not affected at all, I still own 300,000 GIV and keep full control over it. Nonetheless, I will leave my 300,000 GIV untouched and let it staked until the proposal I just voted for is approved (or not), like that my full balance will remain counted in the total votes
​
Votes on proposals are time-weighted and time-sensitive. More specifically, at least 10% of the real-time circulating supply of GIV tokens must be staked on a proposal for at least 14 days to make the proposal valid.
For example, consider the following scenario:

There are 200 million GIV in circulation at any given time. This is important since a proposal passes when the amount of GIV staked on it surpasses 10% of GIV's real-time circulating supply. For our scenario, 20 million GIV will need to be staked for a proposal to pass. 
GIVernance is time-weighted. In other words, the amount of GIV/votes you stake will depend on how long you keep your GIV staked for. 
Generally, a fourteenth of the staked GIV will be counted towards the proposal for each day. Per our scenario, If you decide to vote a total of 10 million GIV on a proposal, you could stake the 10 million for 14 days or stake 140 million for one day. This total will be reached by adding small portions of votes every 10 minutes.
* You cannot withdraw your vote.
Looking to get more GIV tokens?
- Bithumb GIV/USDT
- Uniswap GIV/ETH
- Binance GIV/BNB
How to Write Proposals
To test how GIVernance does in the first month, we will put up the following topics for discussion and voting:
- Listing
- Token Utility
- Improvements/suggestions towards a governance model 
In order to pass a proposal vote, you must:
1. Create a proposal topic under the Proposals category here on Discourse.
2. Add a relevant title for your topic, and choose one of the topics listed above. Example: "Listing - Add XYZ Token"
3. Describe your proposal in detail. What are the action items? What are the impacts? What are the benefits? What are some drawbacks?
4. Add an image at the end of your proposal topic.
5. Create a proposal on cryptolocally.com/en/givernance with the content linked to the topic URL from gov.cryptolocally.com